Warm summer weather is here! Are you ready to take advantage of your outdoor space and spruce it up? There's no time like the present to have the backyard oasis of your dreams finally. As a matter of fact, hardscaping your yard can elevate the space with new and unique elements that totally change the feel of your home. At Green Leaves Landscape, we can help you conceptualize the design and aesthetics of your hardscaping ideas. Here are a few ideas to help you imagine the backyard of your dreams!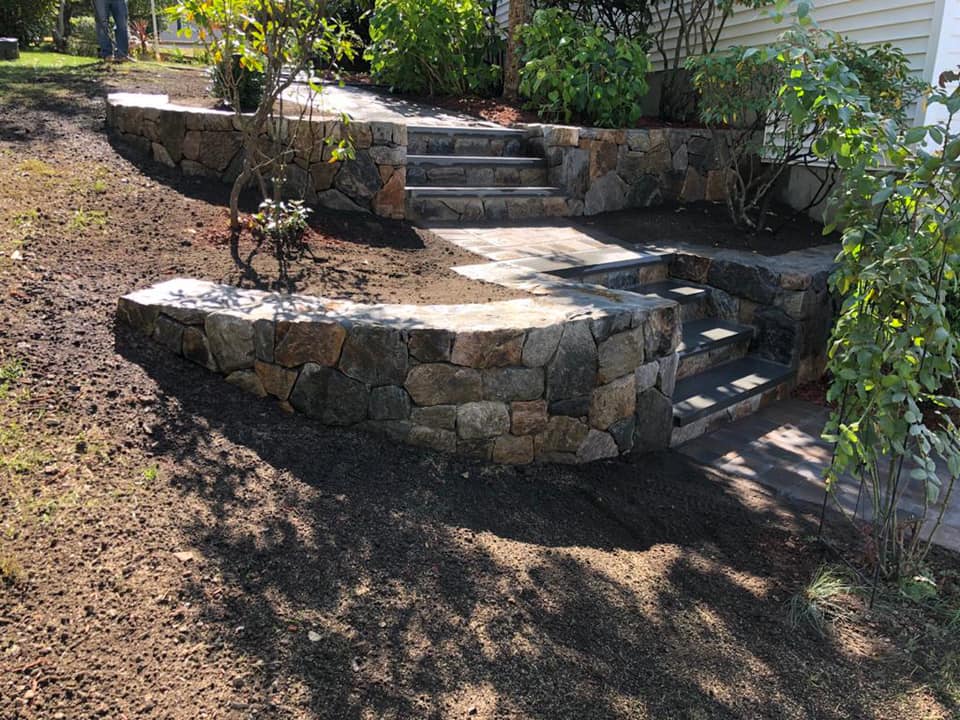 Stairs & Walkways
There are so many different ways to incorporate stairs and walkways into your landscape and hardscape design. Furthermore, you can improve the look and feel of an area by choosing a complementary stone and rock design. There are many options to create a natural stone or a paved look around your home.
Stone Walls
If you're looking for a retaining or freestanding wall around your home, Green Leaves has your back. Walls are a simple way to elevate your home's appearance through hardscaping. Equally important, you can use walls to add more finishing touches, such as ambient lighting for safety and style.
Fire Pits
Custom fire pits? Count us in! Stunning features such as BBQ Islands, Outdoor Kitchens, Fire Pits, or an Outdoor Fireplace are a superb way to create a functional outdoor space that also looks great. There are nearly endless options for custom fire pits. For example, you can create deep hearths or elevated rings to enjoy those gorgeous summer evenings.
Patio
Patios might be the most popular choice in hardscape design. But, just because they're a typical home addition doesn't mean a patio has to be boring or basic. In other words, you can customize and make a patio unique and your own through shape, size, layout, and material choice.
Hardscaping from Green Leaves
Here at Green Leaves Landscaping, we understand how important and unique your Massachusetts backyard is. Our teams are highly skilled and pride themselves on transforming your backyard into your vision through hardscaping and landscaping design. For more information or if you would like a consultation on how hardscaping can transform your home, give us a call at (508) 393-0005.